Written by: Anna Lieber, MS, LCMHC, NCC/CCMHC
I don't know why I am still surprised at times that I have devoted most of my career to understanding why people have suicidal behaviors and how to provide treatment. When I really think about it, I have known about suicide and self-harm most of my life. My family history is full of individuals who have attempted or died by suicide. I also had too many friends die by suicide in high school and college, so I have always known that suicide could be seen as a viable option for me and my clients when life becomes too painful.
My first professional exposure to suicide management was over 25 years ago when I was a psychiatric technician in a large psychiatric hospital. I learned how important it was to listen, provide empathy, and call for professionals to take over if needed. As a Psych Tech, I was trained to be vigilant about any safety concerns to watch out for items that could be used for cutting, shredded sheets, or any ligature risks. I also monitored for isolative and odd behaviors, and my role was to alert the clinical and medical staff to take over. I was an observer and removed from the actual assessment and interventions.
In my early twenties, I worked as a case manager for youth in state custody. There I learned about the realities of how emergency room staff managed suicidal ideation and attempts. I frequently took the youth to the hospital, signed them in, and told the ED staff why this adolescent was unsafe. I will never forget one home visit when an adolescent slit her wrists before me, and I completely panicked. The only tool I had available was to call 911. I often wonder what else I might have done in the situation. How might I have been more understanding or listened better?
Upon beginning my studies to become a licensed mental health therapist, I did not want anything to do with suicide. I had had enough. I have no recollection of suicide ever being addressed in my graduate training (although it must have been, right?). My primary training in managing suicidality was through agency policies and procedures. There I was taught the specific steps I needed to take if a patient expressed suicidal thoughts/intent, what assessment to use, what crisis safety plan the agency used, and reporting protocols. It all felt very cold and impersonal, like a checklist at the doctor's office, but I was told it would keep clients, the agency, and my license safe.
Early in my career as a therapist, I provided therapy to youth and young adults in or aging out of state custody. I focused on intensive trauma treatment, teaching distress tolerance and life skills, and attempting to repair attachment wounds. I quickly realized that suicidal ideations and behaviors coexisted in my clients' lives. I initially did as I was taught: the shift from therapeutic to assessment, involuntary hospitalization, dispassionate safety planning (which often felt more like a CYA for me than to help the client), and a focus on preventing death. However, it wasn't working. My clients would go to the hospital and be discharged with the same or greater desire to die. Thoughts of death and self-harm seemed to provide relief to many of my clients. "Was this a way of coping?" I thought. Although I did worry about straying from the procedures I had been taught and the possible consequences of being sued or losing my license, I chose to look at suicidal behaviors as a coping mechanism. This changed how I worked with clients.  I began to listen more, engage in collaborative risk assessment, and focus on improving life instead of preventing death. When I did this, my clients were more honest and open and began to challenge their own suicidal thinking.
Later in my career, I returned to the psychiatric inpatient world as Chief Clinical Officer of a large psychiatric hospital. I had more influence and opportunities to really dive into an understanding of suicidal behaviors and to begin to discover additional ways to provide treatment. I read everything I could find on the subject and took all available training opportunities. My primary focus was on how to manage chronic suicidal behaviors. Most of the clients I saw in private practice and clients cycling in and out of the hospital had a persistent wish to die. I wanted to learn how to provide meaningful interventions to the patients better so they could begin healing their deep wounds.
From this journey, I am proud to specialize in treating and managing suicidality. I am still learning and do not have all the answers; however, I know I have a solid understanding of what works, how to integrate a collaborative approach with existing agency policies, and, most importantly, how to build a therapeutic relationship with my clients to promote healing.
Click here to register for Anna Lieber's course and get certified in assessing, understanding, managing, and treating chronic suicidality.
About the Author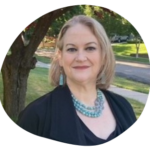 Anna Lieber (she/hers) has over 25 years of experience in behavioral health in direct client care, program development, and administration. Before starting at Westminster University, Anna was the Chief Clinical Officer of a 118-bed free-standing psychiatric hospital, overseeing all inpatient and outpatient clinical programming. Anna has worked in numerous treatment settings throughout Utah and Florida. Anna is passionate about behavioral health and the mental health counseling field and uses her drive to enhance the mental health profession by giving back through service. Anna is the Past-President of the Utah Mental Health Counselors Association and a Utah Crime Victim Reparations and Assistance Board member, providing numerous training sessions to therapists and medical providers.