"There are many many paths to recovery. I believe that as a clinician. I believe that as a recovered individual."
After working for eleven years at treatment centers in the New Orleans area, John decided it was time to begin practicing privately. He opened his practice, Counseling and Recovery, LLC, in February of 2019. Having over a decade of experience working with addiction in treatment centers, making the transition to a private practice was the logical next step upon evaluating his goals.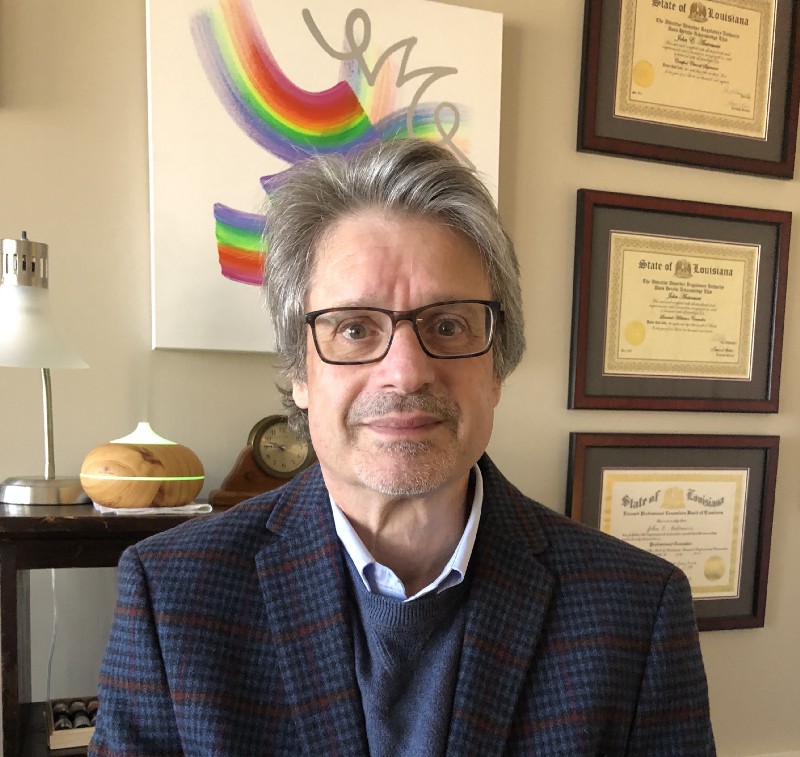 In John's experience at treatment centers, he worked with clients who had progressed to varying severities in their struggles with addiction. Opening a private practice is allowing him to come from a place of preventative care, through which he can work with an individual to address issues before they progress to a need for intensive outpatient treatment or detox.
"I want to empower my clients. They know themselves way better than I will know them."
John now enjoys the liberties to be able to meet clients where they are by exploring a plethora of potential solutions, which can sometimes be subject to constraints in agency work. In the action of meeting clients where they are, John makes a point to remain open to an informed trial-and-error process of finding what does and does not work for each individual client.
John practices within the model that the different manifestations of addiction, whether in the arenas of substances or processes, are still under the same umbrella of addiction. One of the resources to which he directs clients is Smart Recovery, a mutual aid group addressing all addictive behaviors.
Having brought the first Smart Recovery meeting to New Orleans two and a half years ago, John explains that the Smart Recovery program centers around "the idea that we are responsible for our own recovery." When people have access to specific tools and use them, they can help themselves navigate not just early recovery but the continued daily work of long-term recovery.
"This country is multicultural. Well, one culture is the recovery culture — people with recovery status."
A recovered person himself, John acknowledges that his lived experience can often provide him with the opportunity to tap into empathy when he sees clients, for instance, when clients are encountering the specific mental and physical taxes in early recovery. Likewise, in both his personal and professional relationships with recovery topics, John values the issue of cultural recognition for the recovery community in the United States.
"We, over the years, have kinda lived in the shadows."
He notes that in the socio-cultural sphere, involving issues like law-making, the recovery community does not often exercise its voice. For John, it is a passion to speak to this issue when he has the opportunity. He has made several recent state conference presentations of his research on the implications of including recovery status as part of multicultural America. Likewise, in his private practice he will approach this topic with clients when appropriate by exploring the question, "How can you advocate for yourself?"
"I think there are a lot of resources out there. And I think you have to plug yourself into them."
As far as John's clinical community, he values taking part in an organized monthly consultation group as well as calling on colleagues for consultation as needed. Occasionally, he will need to involve medical or law professionals in his work in the way of consult or referral, so he notes that there is need to cultivate connections to these professionals as well.
Today, John feels grateful for the opportunity to be connected to so many effective behavioral health professionals in the New Orleans area to support the growth of his practice. You can connect with John today on TPN.Health.
Keep up with the progress of TPN.Health! Subscribe to our mailing list.
Sign up today to start connecting with clinicians in Louisiana.