TPN.Health welcomes Rachel Hammond, MA, ATR, NCC, to the team!
"We're all part of this ecosystem, and I think it's important to take care of those in the helping profession so we can support each other in the greater community."
Rachel, a newly Registered Art Therapist, is actively seeking licensure as an LMHC/LPC. In the meantime, she is using her clinical orientation as well as an empathetic insight into the needs of her fellows to inform TPN.Health's mission to support clinicians as they navigate behavioral health.
"The arts were something that I always knew."
Rachel's parents served as a vehicle for her access to the arts at an early age. Her father, a self-taught guitarist, and mother, whose has a background in the fine arts, filled her upbringing with artistic expression and creativity. Rachel was introduced to art therapy in high school, cultivating her interest in the field and ultimately her attendance at Mercyhurst University in Erie, PA where she received her B.A. in Art Therapy.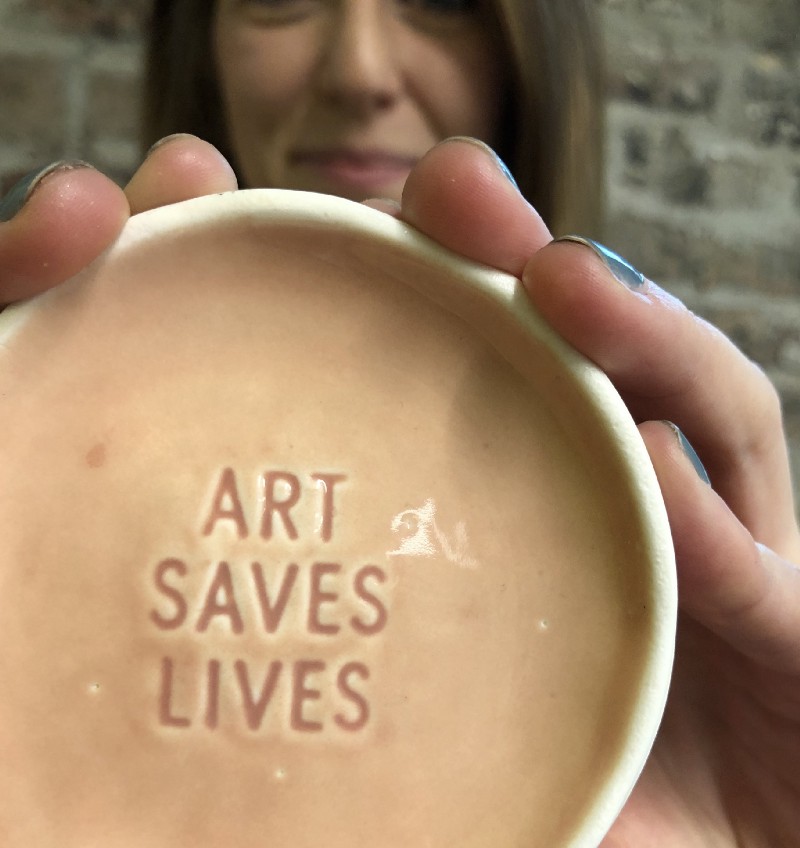 "It was the first week of September — a beautiful, fall day in my last year of college at MU and I was given the news that my dad's sister completed suicide. Within that same week my mother's younger brother was diagnosed with Stage IV esophageal cancer… I found myself holding these two, complex elements of grief and loss leaving me with a lot of questions as I was finishing my degree in a helping profession."
Rachel's encounters with illness and loss have informed her creative processes as well as raised curiosity in the healing power of art therapy and counseling. In attending to this curiosity, she felt propelled to pursue a Masters degree in Clinical Mental Health Counseling with a Specialization in Art Therapy at Lesley University in Cambridge, MA. She sought answers both personally, and professionally to better inform her work of serving individuals from a variety of experiences and backgrounds.
"Any role I've looked for in life revolved around a team for support and a space to bounce ideas. I think that it's really important in the work that we do."
Within the graduate program at Lesley University, Rachel experienced a real sense of interconnectedness with a human community, one where she and her fellows had the space to explore curiosities, co-create, and learn. It was this sense of interconnectedness with her community that grew her art-making processes.
"I'm a big ripper. I love to rip stuff up."
Rachel can't emphasize enough the value of engaging in the work herself as a member of the ATR community. Engagement in the work of art-making materialized for Rachel in a new way way when she explored her own experiences and biases in personal counseling sessions with an art therapist in Boston, MA.
As a vehicle to explore themes of identity, space, and healing, Rachel's therapist presented her with an open-ended directive to create a portal to a a place that embodied a sense of space, openness, and peace — a place where she could transport in any moment.
For Rachel, this space was back home in the Adirondack Mountains of Upstate New York on the Pilot Knob hike. She recalls a vivid memory of laying on the wooden floor of the gazebo lookout on Pilot Knob during the summertime. At that moment, she felt the sun on her skin and with it a sense of freedom and grace. So there on Pilat Knob was her portal to space — the place to which she physically returned every time she went home and, now, the place where she could find solace through visual representation.
"There's this one hike when I go home — It's called Pilot Knob — that I have to do. I don't care If it's snowing or raining. I don't care what season it is."

"I have permission to feel, to heal, and to create my own palette to guide me home."
Today, Rachel's representation of Pilot Knob hangs in her new home apartment in New Orleans, where she is forging pathways under the guidance of creative processes and cultivating supportive community in the spaces where she finds herself.
Keep up with the progress of TPN.Health! Subscribe to our mailing list.
Sign up today to start connecting with clinicians in Louisiana.