"We've embarked on this research-writing project and have found a gap in the literature." -Jordan Esfeld, BS, MS-C
Kathryn Pennings, TPN.Health Clinical Liaison, with colleagues Jordan Esfeld and Annie Rooney, all of whom are masters level students in the Clinical Mental Health Counseling program at Loyola University, gave an interactive presentation of their research findings at the 2019 Louisiana Counseling Association (LCA) Conference.
The presentation, "Trauma-Informed Yoga and Addiction Recovery," sprang from Jordan and Kathryn's' exploration of alternative modalities for addiction recovery in an addictions course. After they presented on trauma-informed yoga as an alternative modality, their professor Dr. Stephanie Robinson encouraged the students to explore this in an in-depth way, as the topic trauma-informed yoga applied to the field of addiction recovery was absent in the literature. So began their development of this particular project. They invited to the research team Annie Rooney, an experienced teacher of trauma-informed yoga in the local community of New Orleans, who was able to inform the project with her experiences in practice.
So, what exactly is trauma-informed yoga?
Essentially, it is a bodily practice that does the work of unifying the fragmentation created in a person's reality from a history of trauma. Jordan explained that the ways this fragmentation presents itself is through implicit memory and explicit memory. Implicit memory is the body's physical storage of response mechanisms in the nervous system to trauma events and triggering events, while explicit memory is the mental recall of a specific memory, the storytelling mechanism.
Jordan noted, "When implicit memory is at the forefront of what is re-traumatizing or re-triggering, sometimes the top-down modality of talk-therapy alone is not enough. We need to access the whole of the person to be able to unify the fragmented pieces." Yoga, tailored to address the specific bodily responses that occur with trauma, is the modality that can grant that access.
Linking Trauma-Informed Yoga to Addiction-Recovery
Trauma plagues most people that are seeking addiction treatment.

Trauma is rated as the top most distressing experience of people recovering from substance use disorders.

Heightened arousal of the autonomic nervous system in PTSD is connected with an increased chance of relapse post-recovery.
Substance use acts as a mechanism for people to cope with the pain of the trauma. The goal of trauma-informed yoga in recovery is to support the symptoms of trauma that come up in the recovery process, such as when the substance is removed. The problem lies in models of treatment that address substance use as separate from trauma history, when in reality the two are intertwined. What ends up happening is that parallel or stage models of treatment perpetuate the fragmentation that occurs with trauma.
In researching, the students found that oftentimes treatment centers will use these models that address trauma and addiction separately or sequentially and do not offer support through trauma-informed yoga. The ideal is to support all of the processes that go on in addiction-recovery with an integrated approach that addresses the whole individual rather than just crisis management. One of the elements to integrate is trauma-informed yoga.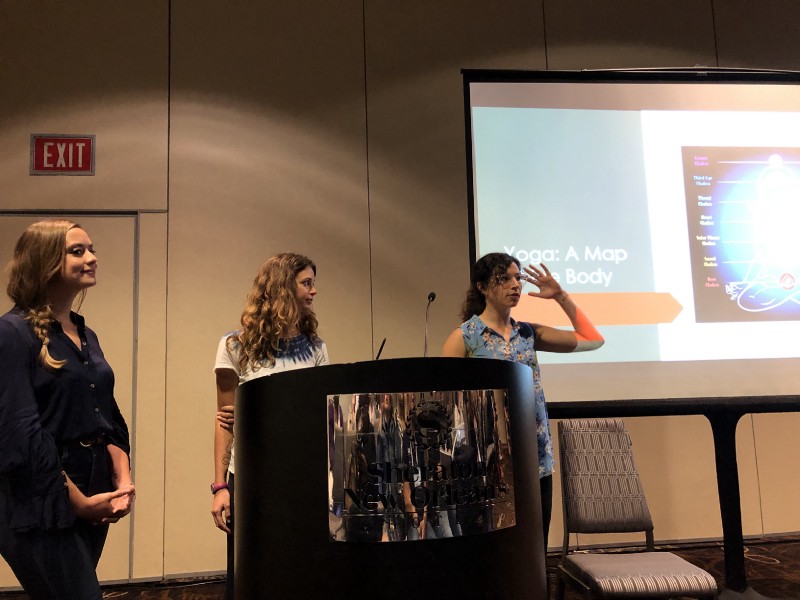 Although the paper was specific to how trauma-informed yoga can be a supportive treatment modality to substance use disorders, the presenters invited the audience to share ideas for how trauma-informed yoga could be supportive to their own work. Kathryn noted the versatility of trauma-informed yoga when she expressed, "We've been putting a lot of work into something that can be translated into a lot of different populations, not just the recovery community."
In the spirit of interactivity, the presenters invited volunteers from the audience to take part in a demonstration of a trauma-informed yoga class to illustrate the structure of a typical class. Gabrielle Deculus, TPN.Health Director of Marketing, and Felicia Kleinpeter, Director of Clinicians, were eager to participate. Annie conducts her classes in the form of a circle and displayed this in the demonstration. The circle form can resolve some of the power differentiation perceptions and comparison-thinking that comes up when people are in rows.
Part of the presentation was considering the factors that affect how specific individuals and groups engage with the practice. As an instructor, Annie notes the importance of this consideration in practice, for example, in her work with trafficked individuals. Considering how these individuals engage means paying attention to language use and the inclusion or exclusion of specific poses. All this is to avoid triggering people and create a space where people principally have opportunities to feel capable and empowered.
The conversation shifted to accessibility when some audience members shared their past perceptions of yoga. For instance, someone in the room shared the perception that yoga is for people who have ample free time for leisure and money to spare. Another shared the notion that yoga was sectioned-off from the everyday and offered just at expensive treatment facilities.
These barriers to access may have been true for many in the past, but things have shifted. Today, free or low-cost in-person classes are available, as well as free online instruction. Annie shared that several of her students practice yoga at home by watching the popular YouTube channel Yoga with Adriene. Today the reality is that yoga is accessible to most everyone.
It is hopeful that these clinicians-in-training are trailblazing the field with their research and practices. TPN.Health wants to hear from clinicians and students who will become behavioral health professionals. Are you involved in research that you're passionate about? Share within the TPN.Health community so fellow trusted clinicians and providers can learn about it!
Keep up with the progress of TPN.Health! Subscribe to our mailing list.
Sign up today to start connecting with clinicians in Louisiana.