The Clinicians Network
Join the TPN.health community — a national, interactive network of trusted behavioral health providers & your access point to free continuing education.
Behind the Word "Trusted"
TPN.health offers our users a local community with a national reach to providers who meet the highest code of clinical services, ethics, and professional standards.
How do we do this?
Whenever a new user signs up for TPN.health, our clinical team verifies their license with the relevant state board, to ensure that every professional on our site meets the criteria to treat clients in their state.
Our principles and your principles are the same — trust and integrity.
Connect, Learn & Share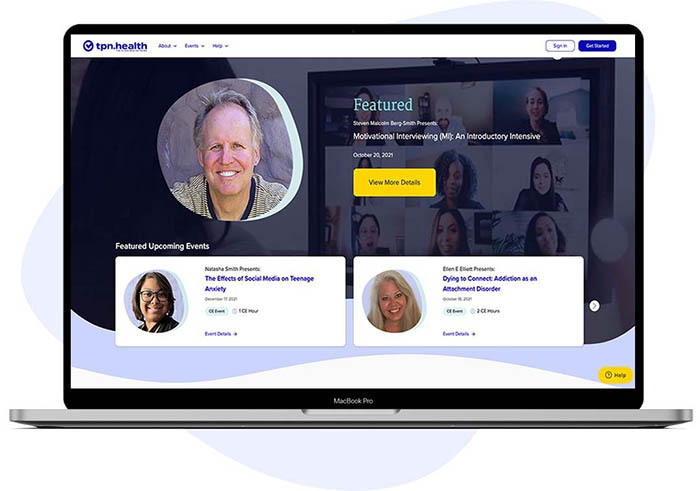 Free Continuing Education
Enjoy free continuing education from industry leading educators both live and on demand. Don't let location, time, or money get in the way of your professional development.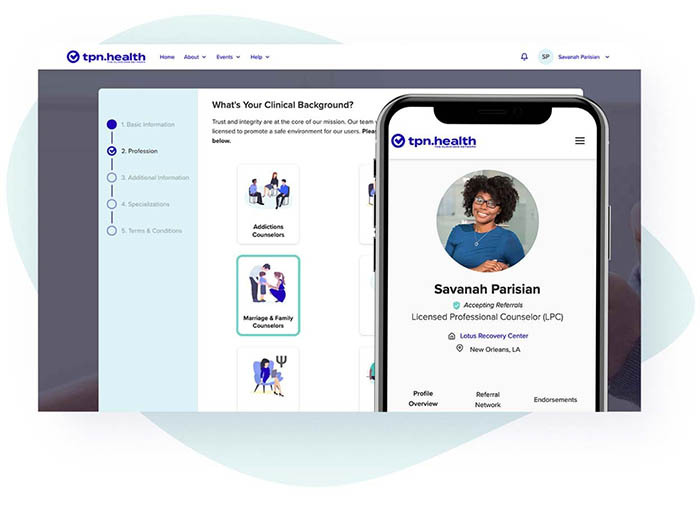 See & Be Seen
Your profile is your digital resume that shows off your specialties, modalities, and availability. Share and connect with other vetted clinicians through interactive chat, posts, videos, & more!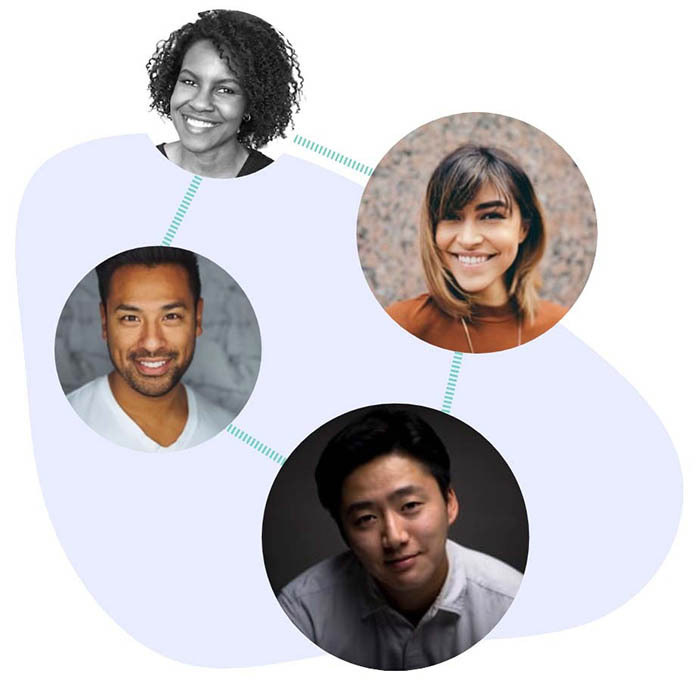 Community Connections
Our team ensures every clinician is vetted to promote a safe environment for our users. Once approved, gain visibility into the larger behavioral health ecosystem and develop real connections digitally.
Benefits
Free CEs — Live Events & On Demand Courses
Send & Receive Secure Referrals
Access to a Network of Trusted Providers
Connect, Endorse, & Engage on the Community Feed
How to Get Started
1

Complete the onboarding process to create your profile – it takes less than 2 minutes.

2

Finish filling out your digital profile to ensure visibility within the clinical community.

3

Upon submission, our clinical team will review and verify your license. Once approved, you'll have full access to TPN.health's network of providers.

4

Endorse a clinician you know and trust, then start a referral for your client, feeling confident that they will receive quality care.

5

Engage with our network on the Community Feed. Find like-minded specialists in your region and nationwide.
1

Fill out the form to build your organization's profile - you will be assigned an account manager to assist.

2

Once approved, you'll have access to your organization dashboard.

3

Invite your team and members to join TPN.health and your organization account.

4

Monitor data on events you've hosted on the platform.

5

Connect with trusted clinicians on the TPN.health network to grow your organization and increase engagement.
About TPN.health
Learn more about how TPN.health was founded to support our shared mission — improving behavioral health outcomes.
What Clinicians are Saying
Presenter was very knowledgeable about the topic presented. I was very receptive to the information provided. The information was relevant to the events and times in which we live.

- Attendee from Brittany Hunt's "Sexual Violence: Cultural, Criminal, and Clinical Factors"

I absolutely loved this training. It was so informative, confirming and right on time! I look forward to more presentations like this.

- Attendee from Marc D'Aunoy's "Triggers, Trauma, and Couples Counseling"

I have been in this field for 30 years and am always gratified to find training that broadens my understanding. This was one of them. Terrific presenter and great material.

- Attendee from Noel Ramirez's "A Primer for Clinicians in the Era of Anti-Asian Racism and Toxic Nationalism"
Stay up-to-date with our latest news and upcoming CE events and courses
" " indicates required fields